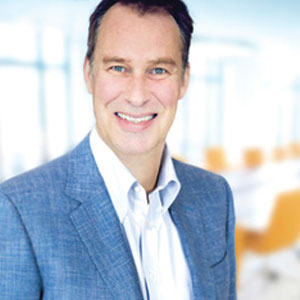 Irwin Fouwels, CEO
Networking technologies are evolving faster than ever before, owing to the wide-spread adoption of mobility, server virtualization, and cloud services. As these technologies become more advanced, it is changing the way enterprises with a global presence work. This transformation brings forth multifold challenges to organizations such as coping with higher bandwidth demands, impaired cloud connectivity, and effective management of costs. On top of that, if an organization is using an outdated WAN, this can hold back the business and prevent organizations from delivering the optimal user experience for modern business applications. In such a business scenario, implementing a software defined wide area network (SD-WAN) can help organizations to deliver an efficient, optimized, and cost-efficient network that drives the business forward.
One company making great strides to help customers steer away from static and complex architecture of traditional networks is Expereo through its cost-effective, flexible, and consistently high-performing software defined networking. Having been in the networking industry for over a decade, Amsterdam-based Expereo supports organizations throughout SD-WAN lifecycle management–from design, deployment and management to 24/7 NOC + CSC operational support for day-to-day responsibility, plus security managed services.
Bringing together the components from multiple SD-WAN vendors, Expereo's fully managed virtual private network service delivers field services, scalable dedicated and broadband internet services for SD-WAN, access to customers' cloud applications, network design and orchestration, reporting and monitoring.
Expereo's fully managed virtual private network service delivers field services, scalable dedicated and broadband internet services for SD-WAN, and network design and orchestration
Expereo is a single vendor for customers to be ready with SD-WAN for their complete network lifecycle.
Expereo SD-WAN Management includes global deployment and change management services, plus the benefits of SD-WAN's real-time site traffic control and advanced network orchestration, with a comprehensive performance reporting and visibility layer. Additionally, since Expereo supports incident network change management with most major SD-WAN vendors, they can work with the customer's vendor of choice. By leveraging Expereo SD-WAN Management, organizations can visualize and manage application performance and deploy complex features such as Certificate Authorities and performance-based routing policies in minutes rather than days. The company helps deploy and install SD-WAN capable hardware to customer sites spread across more than 190 countries.
The move to the internet and SD-WAN, however, is not without its set of challenges. Although public internet is the new paradigm of working, organizations continue to be vulnerable to the myriad of threats that attack critical information assets. Secure XDN proves to be the answer to alleviate these challenges when adopting an internet-centric enterprise network and cloud access strategy. Created in collaboration with SecureOps, a leading MSSP, Secure XDN's all-inclusive cloud-based, and on-premise suite empowers customers to securely operate internet-centric networks, deploy SD-WAN, and confidently move to the cloud. In addition to speed, reliability, and secure operations, the migrations to internet-based networking and SD-WAN is seamless and secure.
Time and again, Expereo has upgraded its SD-WAN platform through partnerships and acquisitions. Today, the company's customers have access to a combination of connectivity options, including fiber, broadband, and a 4G wireless connection. Going ahead with a vast array of services, Experio plans to expand its internet services and connectivity portfolio with the addition of 5G access to its SD-WAN and global internet services. This futuristic approach will enable 5G mobile connectivity to its SD-WAN overlay and help organizations stay connected.