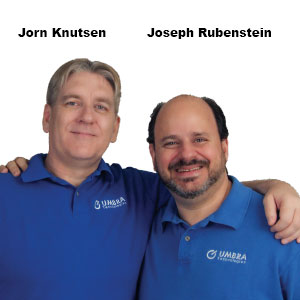 Jorn Knutsen, CEO and Joseph Rubenstein, CTO
Leading IT research firm Gartner sees SD-WAN technology powering 30 percent of all enterprises by the end of 2019. For multi-location businesses, SD-WAN is always a more cost-efficient solution than traditional WAN. SD-WAN is a genuinely transformative technological approach that introduces disruption in the conventional enterprise connectivity marketplace. Based in Hong Kong, UMBRA Technologies has since 2012 been overcoming any misconception or negativity surrounding SD-WAN and ensuring every CIO realizes that SD-WAN is a true substitute for upping the ante in the old-school connectivity solutions sphere, backed by a strong IP portfolio.
"Who wouldn't want to have a 100Mbps SD-WAN solution with guaranteed packet delivery deployed to carry everything the company needs to do over distance rather than a 20 Mbps MPLS setup with only a few Mbps available for the most critical systems," says Jorn Knutsen, CEO of UMBRA Technologies. UMBRA Technologies has created a communications platform, a Global Virtual Network (GVN), by adding a new, enhanced transparent layer into the networking stack, seamlessly combining any kind of network fabric into a universally available network tapestry without any costly specialized hardware. UMBRA Technologies delivers products and services as extensions of the GVN including an advanced SD-WAN product named Secure Network Optimization (SNO) as an over-the-top solution that handles high latency, packet loss and other issues, between the customer LAN and the connection destination by active monitoring and AI learning algorithms to route around bottlenecks and give optimal performance regardless of the underlying connectivity situation. The SNO appliance, being plug-and-play deployment ready, ensures that customers can be operational within ten minutes once the appliance arrives on site. In addition, the SNO service is 100 percent transparent and protocol neutral, meaning that a CIO can run any security protocol the company wants, to protect its data stream from prying eyes.
Who wouldn't want to have a 100Mbps SD-WAN solution with guaranteed packet delivery deployed to carry everything the company needs to do over distance rather than a 20 Mbps MPLS setup?
The SNO service is an extension of the GVN, not a standalone solution that does not need to be built independently for each individual customer. As a result, even if data flowing through the network is mingled up at the individual packet level, and even if someone were to be able to intercept the data stream, they would only get snippets of hundreds of connections rather than the data from one individual customer. UMBRA Technologies keeps control of the packets by adding a secondary header identifier that is encrypted by a rotating and inter-dependent secure key plus a transit packet "cap" of bit level payload scrambling. UMBRA provides all the "smart" networking configurations needed for a network to have accelerated traffic delivery, enhanced video quality for video conferencing, better VoIP call quality, secure networking/VPNs, and CDN connectivity which are all made redundant by using UMBRA Technologies' SNO service. Furthermore, there is no compromise to quality as data is neither changed through compression nor altered in any way. "We offer a 2-week, zero-touch provisioning service for SD-WAN, with an extensive no-obligation trial to showcase enhancement in a live environment," says Joseph Rubenstein, CTO of UMBRA Technologies.
One of the customers of UMBRA Technologies, a Visa service company which is working for multiple embassies in Asia, assisting applicants in filing their Schengen Visa applications properly, are dependent on highly secure servers in Europe to communicate with the different national foreign ministries. Before meeting UMBRA Technologies, they had assigned two full-time engineers to maintain these secure connections due to latency and loss resulting in server response errors and VPN failures. UMBRA Technologies was introduced to their CIO at a conference. His contact detail was shared with one of the sales channel partners, and after a 2-week trial, they became a customer. In the following years, they have increased their bandwidth capacity and reassigned the two engineers to perform other roles in their organization.
UMBRA Technologies will continue to evolve the GVN and its product extensions by continually innovating and rolling out new features. The firm is currently working on a multitude of additional features such as software which can allow users to tap into some of the key elements of the GVN from any mobile device and a smaller portable device that can be temporarily installed in a remote location while offering the full range of capabilities inherent to the GVN. "We have a few other extensions to the GVN on the drawing board, ranging from collaborative security to performance enhancements," concludes Mark Thatcher, CCO of UMBRA Technologies.